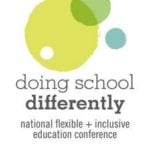 COVID -19, be GONE!
10, 9, 8, 7, 6, 5, 4, 3, 2……the count down is on
After the success of the 2016 and 2018 Doing School Differently conferences we are back in 2022 to give you another opportunity to advance the national conversation on practice and research in flexible and inclusive education.
Doing School Differently is the pre-eminent Australian conference for all educators, youth workers, researchers, policy makers and young people who are committed to developing and sustaining successful educational opportunities and pathways for young people who have experienced barriers to education.
Join us in Adelaide on 30 June – 01 July 2022 to add your voice to the conversation! 
REGISTRATIONS REOPENING SOON!
Spotlight on DSD Keynote Speakers