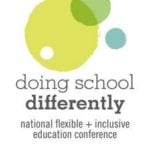 Doing School Differently 2020 (now being held in 2021!)
Please join us to continue our national conversations about Doing School Differently, now in 2021!
Doing School Differently is the pre-eminent Australian conference for all educators, youth workers, researchers, policy makers and young people who are committed to developing and sustaining successful educational opportunities and pathways for young people who have experienced barriers to education.
For AAFIE, the health and well-being of our community and delegates is a priority, and unfortunately, due to the impacts of Covid-19 we have made the decision to postpone DSD2020.
The good news is that all the details will remain the same – same location and same great program, just a different date.
24-25 June 2021
Adelaide Convention Centre 
5  THINGS YOU NEED TO KNOW ABOUT #DSD2021 – click below to read more! 
Keep playing along at home for more details with our new tag#DSD2021 #flexifolk #doingschooldifferently